Filter by Category
Basketry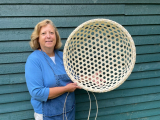 Shaker Cheese Basket
with Karen Wychock

Jun 3, 2023 at 9 am
Class Description: The Shakers began making baskets early in their history to help with everyday farm work. The Shaker Cheese Basket is just what its name implies . . . it was used in the Shaker community in the cheese making process. The large hexagonal weave (triaxial weave) was used for draining the cheese curds. Today, this basket can serve as a beautiful accent piece in your home, as it is so architectural in nature. This 26" cheese basket will be woven of 3/8" flat reed using triaxial weaving, which is composed of three sets of weavers that intersect and interlace with each other at 60 degree angles. The base of the basket is a hexagon with hexagon openings. As the sides are woven it becomes round. Once the spokes are turned down, you will complete the basket with heavy 3/4" half round rims and 3/8" lashing. Please Note: This is an advanced class so you must have weaving experience. This is a challenging basket to make, but certainly one that will add beauty to your home.
Lunch: Lunch is included in the class fee. If you have any dietary restrictions, please note them when you register.
Instructor Bio: Working over wooden molds, in the method of the Shakers, Karen Wychock's baskets are traditional in shape and materials. She weaves both Shaker reproductions in ash and traditional, utilitarian baskets of reed. Native hardwoods such as ash and oak are used to make the rims and handles, and all of her baskets are lashed using ash. Each basket takes on its own character as it is woven in a quatrefoil. Twill or fancy lace patterns appeal to both eye and touch.
Karen was an art teacher for 22 years in the Neshaminy School District, Langhorne, PA, before becoming a middle school principal for 15 years in both the Neshaminy School District and the Central Bucks School District.
She is a member of the Bucks County Craftsmen's Guild, the Bucks County Hand Weaver's Guild and the PA Guild of Craftsmen. She is also president of the Penn-Jersey Basket Weavers Guild. Karen sells her work at various shows and galleries throughout the northeast (Pennsylvania, New Jersey, Connecticut, Virginia, and Ohio), and has the earned the distinction of Waterford Landmark Artisan for her commitment to the Waterford Fair and the Waterford Foundation. She teaches both children and adults.
Payment plan available: $50 deposit plus 2 payments of $87.50, paid every two weeks.
Pine Needle Basketry
with Cory Ryan

Jul 8, 2023 at 9 am
Class Description: Pine needle basketry is a craft tradition developed by American Indians in the Southeastern and Western U.S. states, where longleaf pine trees grow. In this class, you will learn how to coil and stitch longleaf pine needles to create a useful basket. Students will select from a variety of centers as a point of departure, then learn how to wrap and stitch the needles together; historical techniques will be discussed. No previous basket weaving experience is necessary!
Lunch: Lunch is included in the class fee. If you have any dietary restrictions, please note them when you register.
Instructor Bio: For Cory Ryan, art was always a hobby and her therapy from a stressful IT job. She started with folk art and had a goal to learn something new as the years went by. She learned to make baskets with longleaf pine needles from a friend's mother, who had learned from her mother. She is pleased to carry on this heritage craft tradition. She teaches a variety of classes, ranging from quilling to pine needle basketry, and is serving her fourth term as President of the Art Guild of Greene in Greene County, VA. Now retired from the corporate world, Cory creates art to display and sell at a local craft shop in Ruckersville, VA.
Full Course