Filter by Category
Foodways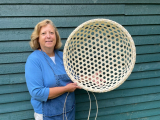 Shaker Cheese Basket
with Karen Wychock

Jun 3, 2023 at 9 am
Class Description: The Shakers began making baskets early in their history to help with everyday farm work. The Shaker Cheese Basket is just what its name implies . . . it was used in the Shaker community in the cheese making process. The large hexagonal weave (triaxial weave) was used for draining the cheese curds. Today, this basket can serve as a beautiful accent piece in your home, as it is so architectural in nature. This 26" cheese basket will be woven of 3/8" flat reed using triaxial weaving, which is composed of three sets of weavers that intersect and interlace with each other at 60 degree angles. The base of the basket is a hexagon with hexagon openings. As the sides are woven it becomes round. Once the spokes are turned down, you will complete the basket with heavy 3/4" half round rims and 3/8" lashing. Please Note: This is an advanced class so you must have weaving experience. This is a challenging basket to make, but certainly one that will add beauty to your home.
Lunch: Lunch is included in the class fee. If you have any dietary restrictions, please note them when you register.
Instructor Bio: Working over wooden molds, in the method of the Shakers, Karen Wychock's baskets are traditional in shape and materials. She weaves both Shaker reproductions in ash and traditional, utilitarian baskets of reed. Native hardwoods such as ash and oak are used to make the rims and handles, and all of her baskets are lashed using ash. Each basket takes on its own character as it is woven in a quatrefoil. Twill or fancy lace patterns appeal to both eye and touch.
Karen was an art teacher for 22 years in the Neshaminy School District, Langhorne, PA, before becoming a middle school principal for 15 years in both the Neshaminy School District and the Central Bucks School District.
She is a member of the Bucks County Craftsmen's Guild, the Bucks County Hand Weaver's Guild and the PA Guild of Craftsmen. She is also president of the Penn-Jersey Basket Weavers Guild. Karen sells her work at various shows and galleries throughout the northeast (Pennsylvania, New Jersey, Connecticut, Virginia, and Ohio), and has the earned the distinction of Waterford Landmark Artisan for her commitment to the Waterford Fair and the Waterford Foundation. She teaches both children and adults.
Payment plan available: $50 deposit plus 2 payments of $87.50, paid every two weeks.
Wood-Fired Baking (Ages 10 - 13)
with Jerry Bond

Jul 5, 2023 at 9 am
Do you like baking? How about making fires? Put on your apron, dust your hands with flour, and grab the matches! In this 3-day bread camp, students will learn how to make and bake breads in an outdoor wood oven and an indoor electric oven. Discover flat breads, chemically leavened breads, and yeasted bread that will range from savory to sweet. Learn how to prepare bread dough, then head outside to stoke the wood-fired oven, baking different flat breads, like tortillas, pita, and pizza, each day for lunch. There will be opportunities to eat your homework, because there will be enough bread to take home at the end of each day!
Payment plan available: $75 deposit plus 3 payments of $40.00, paid every four weeks.
Stack, Fire, Bake: Outdoor Pizza Oven
with David Cargo

Jul 8, 2023 at 9 am
Class Description: Join baker David S. Cargo to learn how to build a portable stacked-brick oven. You'll build the oven together as a team, and while it is firing, learn how to make dough for flatbreads and pizza. When the oven has reached optimal temperature, you'll bake naan, pita bread, and pizza in the hot brick oven, then cap off the class with a wood-fired tasting party! You will leave with hands-on experience in building and baking in stacked brick ovens, along with flat bread recipes, and plans for three different oven sizes.
Lunch: Lunch is included in the class fee (and a pizza party at the end of class). If you have any dietary restrictions, please note them when you register.
Instructor Bio: David S. Cargo is one of the founding members of the Saint Paul Bread Club, a former baker at Trotter's Cafe and Bakery, a former baker at the St. Agnes Baking Company, and a featured baker in Kim Ode's cookbook, Baking with the Saint Paul Bread Club: Recipes, Tips, and Stories.
David's been teaching his oven-building class since 2010. He's taught it over 70 times and to hundreds of students in several states. His workshop was selected to be on the program for the Kneading Conference in Maine in 2016, 2017, and 2018. He also presented a shortened version at the annual meeting of the Masonry Heater Association at Wildacres, North Carolina, in 2018. We are pleased to welcome him back to the Waterford Craft School. Check out our conversation with David on our YouTube channel, which we recorded via Zoom in April, 2021.
Payment plan available: $50 deposit plus 2 payments of $72.50, paid every four weeks.
Will run