Filter by Category
July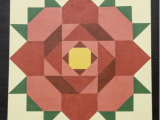 Barn Quilt Painting
with Vyvyan Rundgren

Jul 8, 2023 at 9 am
Class Description: In rural areas, the art of barn quilt painting has become a popular way to celebrate America's agricultural and cultural past while adding cheery pops of color to outdoor structures. Create your own 24" x 24" barn quilt painting--the perfect size for mounting on your shed, home, or business! Using a quilt block design that you bring from home for inspiration, you will learn how to scale and transfer the pattern onto a prepared wooden board, then you will be guided through the process of taping, painting, and sealing it. Most complete projects will have one or more coats of protective sealant by the end of the class; students will be given enough sealant to complete the process at home. If time allows, a smaller 12"x12" painting can be started for an additional $10 fee, which can be paid directly to the instructor in class.
Lunch: Lunch is included in the class fee. If you have any dietary restrictions, please note them when you register.
Instructor Bio: Vyvyan Rundgren became interested in painted floor cloths (both on canvas and linoleum), which gave a new dimension to her life-long love of art. For eight years she was an instructor at the John C. Campbell Folk School in NC and also taught workshops throughout central Virginia. The painted floor cloth concept expanded to include floor quilts (fabric) and floor pages (paper). Her book, Floor Cloths, Quilts & Pages was released in 2015.
Vyvyan serves as an officer on the Board of Directors for the Art Guild of Greene County. Through the Art Guild and with the support of the Greene County Economic Development & Tourism she founded the Blue Ridge Barn Quilt Project and it has grown to be the largest barn quilt trail in Virginia, now having over 150 artworks on display. She not only paints many of the barn quilts, she also conducts workshops to teach others how to create their own.
Pine Needle Basketry
with Cory Ryan

Jul 8, 2023 at 9 am
Class Description: Pine needle basketry is a craft tradition developed by American Indians in the Southeastern and Western U.S. states, where longleaf pine trees grow. In this class, you will learn how to coil and stitch longleaf pine needles to create a useful basket. Students will select from a variety of centers as a point of departure, then learn how to wrap and stitch the needles together; historical techniques will be discussed. No previous basket weaving experience is necessary!
Lunch: Lunch is included in the class fee. If you have any dietary restrictions, please note them when you register.
Instructor Bio: For Cory Ryan, art was always a hobby and her therapy from a stressful IT job. She started with folk art and had a goal to learn something new as the years went by. She learned to make baskets with longleaf pine needles from a friend's mother, who had learned from her mother. She is pleased to carry on this heritage craft tradition. She teaches a variety of classes, ranging from quilling to pine needle basketry, and is serving her fourth term as President of the Art Guild of Greene in Greene County, VA. Now retired from the corporate world, Cory creates art to display and sell at a local craft shop in Ruckersville, VA.
Stack, Fire, Bake: Outdoor Pizza Oven
with David Cargo

Jul 8, 2023 at 9 am
Class Description: Join baker David S. Cargo to learn how to build a portable stacked-brick oven. You'll build the oven together as a team, and while it is firing, learn how to make dough for flatbreads and pizza. When the oven has reached optimal temperature, you'll bake naan, pita bread, and pizza in the hot brick oven, then cap off the class with a wood-fired tasting party! You will leave with hands-on experience in building and baking in stacked brick ovens, along with flat bread recipes, and plans for three different oven sizes.
Lunch: Lunch is included in the class fee (and a pizza party at the end of class). If you have any dietary restrictions, please note them when you register.
Instructor Bio: David S. Cargo is one of the founding members of the Saint Paul Bread Club, a former baker at Trotter's Cafe and Bakery, a former baker at the St. Agnes Baking Company, and a featured baker in Kim Ode's cookbook, Baking with the Saint Paul Bread Club: Recipes, Tips, and Stories.
David's been teaching his oven-building class since 2010. He's taught it over 70 times and to hundreds of students in several states. His workshop was selected to be on the program for the Kneading Conference in Maine in 2016, 2017, and 2018. He also presented a shortened version at the annual meeting of the Masonry Heater Association at Wildacres, North Carolina, in 2018. We are pleased to welcome him back to the Waterford Craft School. Check out our conversation with David on our YouTube channel, which we recorded via Zoom in April, 2021.