Filter by Category
March
Making a Floorcloth from Start to Finish
with Grace Rochford

Mar 25, 2023 at 8:30 am
Class Description: In this one-day class, students will design a useful, 2' by 3' piece of painted canvas floorcloth--one of the earliest forms of modern floor covering! When registering, select a background color of cream or yellow-gold (please click this link to see the Background Color Samples, then make your selection from the drop down menu at check out.) The instructor will prepare your background in advance of class. In class, you will select from several different diamond patterns. A variety of paint colors will be available to choose from (black, burgundy, navy, and more). If you prefer to bring your own paint, Glidden Diamond interior acrylic sample sizes are recommended (available at Home Depot). The instructor will also provide a selection of stencils, or you may bring your own. The tuition includes the $80 materials fee (all necessary supplies, including the protective polycrylic, which should be applied at home before use.) Please bring a hairdryer to speed up the painting process, and an apron or old work shirt to protect your clothes.
Lunch: Lunch is included in the class fee. If you have any dietary restrictions, please note them when you register.
Instructor Bio: Grace Rochford originally made floorcloths just for herself, then was inspired to launch her company, Designs By Grace. She's been making floorcloths for over 15 years, and has the added distinction of being one of our Waterford Landmark Artisans, who are the heart of the Waterford Fair and a dedicated supporters of the Waterford Foundation. She has taught numerous Waterford Craft School classes, inspiring many of her students to continue making floorcloths on their own. The process is contagious!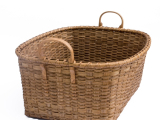 Large Laundry/Storage Basket (Beginner/Intermediate)
with Karen Wychock

Mar 25, 2023 at 9 am
Class Description: This is a very large basket that will be woven over a wooden mold, measuring 16" x 22" x 13". It's perfect for laundry, or to showcase your collection of quilts or pillows. The instructor first wove this on an antique basket mold she found in New Jersey! On Saturday, you will measure and cut all of your spokes, lay out the base and then weave the sides. An assortment of reed sizes will be available so you can incorporate pattern and texture into your basket. You can also choose to incorporate color if you choose. Copper brads will be used to attach three sets of oak runners to the base for support. On Sunday, you will pack the basket, turn down the spokes and then add handles and rims. Lashing will tie the rims to the basket. Please Note: this class ends at 3 PM on Sunday.
Tuition includes the $90 Materials Fee.
Lunch: Lunch is included in the class fee. If you have any dietary restrictions, please note them when you register.
Instructor Bio: Working over wooden molds, in the method of the Shakers, Karen Wychock's baskets are traditional in shape and materials. She weaves both Shaker reproductions in ash and traditional, utilitarian baskets of reed. Native hardwoods such as ash and oak are used to make the rims and handles, and all of her baskets are lashed using ash. Each basket takes on its own character as it is woven in a quatrefoil. Twill or fancy lace patterns appeal to both eye and touch.
Karen was an art teacher for 22 years in the Neshaminy School District, Langhorne, PA, before becoming a middle school principal for 15 years in both the Neshaminy School District and the Central Bucks School District.
She is a member of the Bucks County Craftsmen's Guild, the Bucks County Hand Weaver's Guild and the PA Guild of Craftsmen. She is also president of the Penn-Jersey Basket Weavers Guild. She teaches both children and adults. Karen sells her work at various shows and galleries throughout the northeast (Pennsylvania, New Jersey, Connecticut, Virginia, and Ohio), and is a 'Waterford Landmark Artisan', exemplifying excellence in craftsmanship and education at the Waterford Fair, and for her commitment to the Waterford Foundation's preservation mission.
Willow Woven Garden Structures
with Jesica Clark

Mar 25, 2023 at 9 am
Class Description: In this workshop, students will make two different garden structures, a conical obelisk and a domed, open plant cloche. These woven structures can be used as plant supports or garden accents. Students will weave with willow and learn basic willow handling techniques using three different weaving patterns: Irish mouth wale, French randing, and three-rod wale, and two different tying knots, God's eye and Japanese eye knot. This workshop is suitable for beginners, but strong hands are a must, as students will be working with larger willow. All materials and tools will be provided for use in class. Detailed instructions and a template for creating a jig at home will be provided. The history of willow weaving, and a summary of growing, harvesting, and processing willow also will be taught.  Please Note: this class ends  at 3 PM on Sunday.
Lunch: Lunch is included in the class fee. If you have any dietary restrictions, please note them when you register.
Instructor Bio: Jes Clark is owner and operator of Willow Vale Farm in Stanfordville, NY. Jes weaves traditional and contemporary functional pieces and the basket forms created are a result of their conversation with each stick of willow. All of their willow is grown without pesticides using regenerative practices and with loving care. Jes has been teaching weaving just since 2018 but has taught hundreds of students ranging from absolute beginners to experienced weavers looking to refine their craft. They have taught at the Stowe Basketry Festival, for the Northeast Basketmakers Guild, at the New York Botanical Garden just to name a few, and also privately in one-on-one tutorials.
Will run