Filter by Category
Painting
Making a Floorcloth from Start to Finish
with Grace Rochford

Mar 25, 2023 at 8:30 am
Class Description: In this one-day class, students will design a useful, 2' by 3' piece of painted canvas floorcloth--one of the earliest forms of modern floor covering! When registering, select a background color of cream or yellow-gold (please click this link to see the Background Color Samples, then make your selection from the drop down menu at check out.) The instructor will prepare your background in advance of class. In class, you will select from several different diamond patterns. A variety of paint colors will be available to choose from (black, burgundy, navy, and more). If you prefer to bring your own paint, Glidden Diamond interior acrylic sample sizes are recommended (available at Home Depot). The instructor will also provide a selection of stencils, or you may bring your own. The tuition includes the $80 materials fee (all necessary supplies, including the protective polycrylic, which should be applied at home before use.) Please bring a hairdryer to speed up the painting process, and an apron or old work shirt to protect your clothes.
Lunch: Lunch is included in the class fee. If you have any dietary restrictions, please note them when you register.
Instructor Bio: Grace Rochford originally made floorcloths just for herself, then was inspired to launch her company, Designs By Grace. She's been making floorcloths for over 15 years, and has the added distinction of being one of our Waterford Landmark Artisans, who are the heart of the Waterford Fair and a dedicated supporters of the Waterford Foundation. She has taught numerous Waterford Craft School classes, inspiring many of her students to continue making floorcloths on their own. The process is contagious!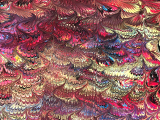 Traditional Marbling on Specialty Paper, Cotton & Silk
with Peggy Wertheim

Jun 3, 2023 at 9 am
Class Description: Unlike many art forms, which take years to master, marbling will inspire you with instant gratification and success! Learn traditional marbling techniques with carrageenan (powdered seaweed) and acrylic paints. Using rakes, combs, broomstraws, and other tools, you will learn patterns such as Feather, Bird Wing, Thistle, Frogs, Foot, Chevron, Peacock, Spanish Wave, Stone Marble, and more. Create 20 – 30 marbled papers and fat-quarter fabrics, which can be incorporated into collage, framed artwork, quilting, cards, journal covers, and more. Browse reference books in class & leave with an extensive take-home handout packet. Bring your love of art, your creativity, and curiosity--everything else will be included in the class fee!  Please Note: this class ends at 3 PM on Sunday.
Lunch: Lunch is included in the class fee. If you have any dietary restrictions, please note them when you register.
Instructor Bio: Peggy J. Wertheim, M.A.T. Surface Design Artist and Master Teaching Artist in marbling, silk painting, batik, shibori, and complex dyeing. Her 40+ year career began with textile color exploration and completion of a Master of Arts in Teaching from Miami University. Ms. Wertheim has exhibited at hundreds of juried and invitational shows and galleries simultaneously while offering workshops. This allows her to share her expertise and creativity with her love of teaching. In 2013, she was the only Teaching Artist in the USA selected to attend the prestigious Rauschenberg Foundation Power of Art Conference. She currently devotes herself to teaching workshops, private classes, and creating her Art to Wear and framed artworks.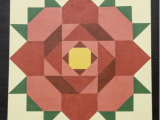 Barn Quilt Painting
with Vyvyan Rundgren

Jul 8, 2023 at 9 am
Class Description: In rural areas, the art of barn quilt painting has become a popular way to celebrate America's agricultural and cultural past while adding cheery pops of color to outdoor structures. Create your own 24" x 24" barn quilt painting--the perfect size for mounting on your shed, home, or business! Using a quilt block design that you bring from home for inspiration, you will learn how to scale and transfer the pattern onto a prepared wooden board, then you will be guided through the process of taping, painting, and sealing it. Most complete projects will have one or more coats of protective sealant by the end of the class; students will be given enough sealant to complete the process at home. If time allows, a smaller 12"x12" painting can be started for an additional $10 fee, which can be paid directly to the instructor in class.
Lunch: Lunch is included in the class fee. If you have any dietary restrictions, please note them when you register.
Instructor Bio: Vyvyan Rundgren became interested in painted floor cloths (both on canvas and linoleum), which gave a new dimension to her life-long love of art. For eight years she was an instructor at the John C. Campbell Folk School in NC and also taught workshops throughout central Virginia. The painted floor cloth concept expanded to include floor quilts (fabric) and floor pages (paper). Her book, Floor Cloths, Quilts & Pages was released in 2015.
Vyvyan serves as an officer on the Board of Directors for the Art Guild of Greene County. Through the Art Guild and with the support of the Greene County Economic Development & Tourism she founded the Blue Ridge Barn Quilt Project and it has grown to be the largest barn quilt trail in Virginia, now having over 150 artworks on display. She not only paints many of the barn quilts, she also conducts workshops to teach others how to create their own.