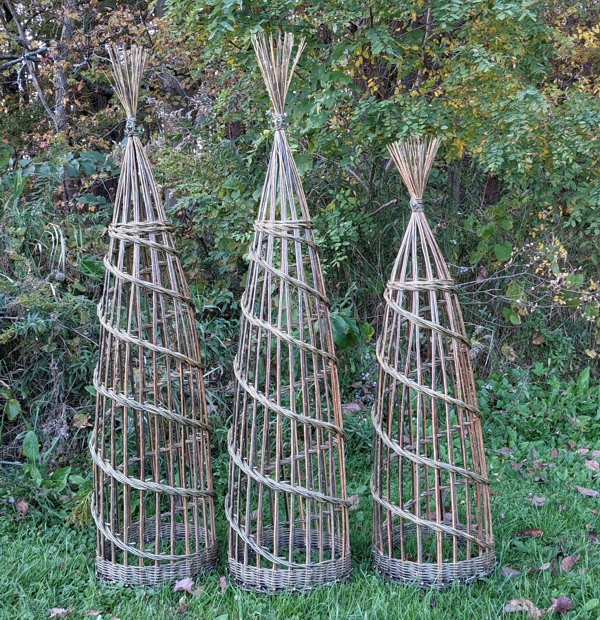 Willow Woven Garden Structures
with Jesica Clark
$38500
Class Description: In this workshop, students will make two different garden structures, a conical obelisk and a domed, open plant cloche. These woven structures can be used as plant supports or garden accents. Students will weave with willow and learn basic willow handling techniques using three different weaving patterns: Irish mouth wale, French randing, and three-rod wale, and two different tying knots, God's eye and Japanese eye knot. This workshop is suitable for beginners, but strong hands are a must, as students will be working with larger willow. All materials and tools will be provided for use in class. Detailed instructions and a template for creating a jig at home will be provided. The history of willow weaving, and a summary of growing, harvesting, and processing willow also will be taught.  Please Note: this class ends  at 3 PM on Sunday.
Lunch: Lunch is included in the class fee. If you have any dietary restrictions, please note them when you register.
Instructor Bio: Jes Clark is owner and operator of Willow Vale Farm in Stanfordville, NY. Jes weaves traditional and contemporary functional pieces and the basket forms created are a result of their conversation with each stick of willow. All of their willow is grown without pesticides using regenerative practices and with loving care. Jes has been teaching weaving just since 2018 but has taught hundreds of students ranging from absolute beginners to experienced weavers looking to refine their craft. They have taught at the Stowe Basketry Festival, for the Northeast Basketmakers Guild, at the New York Botanical Garden just to name a few, and also privately in one-on-one tutorials.
Mar

25

-

26th

,

2023

Sun and Sat

from

9:00 am - 5:00 pm
Waterford Old School
540-882-3018
40222 Fairfax St,
Waterford, VA 20197 Get directions